19 Feb

All Glass Cleaners are NOT Made Equal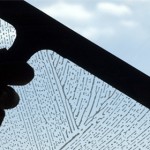 Cinderella came to the office today and decided to clean the windows. Now don't take this the wrong way but Cinderella really hates to clean. However, since she had three different glass cleaners she thought why not compare them?
Okay, Cinderella didn't really jump off the Silver Screen and come clean our windows. Cinderella is really me and I would rather review a product first before I promote it. So, I decided to leave the warmth of my cubicle and extra large computer screen to bring the sunshine into the office by cleaning three different window with three different products. On with the product review!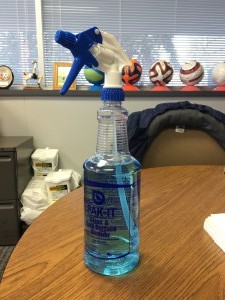 First I tried Pak-It Glass and Surface Cleaner. This product you have to make, but don't let that discourage you from purchasing the product, it's really simple. You take the Pak-It formula, put it into the matching spray, add water, let it dissolve, give it a mix, and you're ready to go. Now, here's the discouraging part: you're spritzing the window and turn around to grab your wipe cloth and the solution has ran down the window before you can wipe. So, you wipe down the window super fast and what does it leave?… Streaks! Strike 2 for this product. Don't get me wrong, I like the idea of this product; I just think they need to get some of the kinks out. Everyone hate streaks except for the crows on the Windex commercials and I would prefer a product stay in place instead of run down window. Once again, this is a water based product, which allows it to be eco friendly. Actually, their green certification is pending. All and all I like the idea of the product, it just may not be the best window cleaner. My advice: try one of Pak-Its other products and see what you think. Maybe Cinderella will come back to try a different cleaner.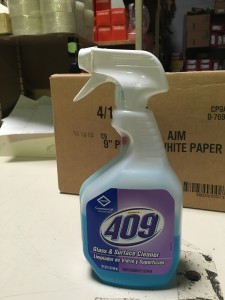 On the window, I tried 409 Glass and Surface cleaner. I didn't intend to do a review on three products, it was only supposed to be two, but three is better than two. The 409 is what we used before these other two products ended up on my desk. Now that I'm done ranting, 409 is a ready to use product. So, I do the same thing I did with the Pak-It: I spritz the window, turn around to grab my cloth, and the product is mostly in the area that I left it. There was a bit of dripping but it hadn't completely ran down the window, that's a plus! The windows have been wiped and oh no, STREAKS! Strike one for 409. 409 is not a bad product, it just reminds me of every grocery store product out there and if I am going "Cinderella" clean my house or office I want a product that I can see a difference.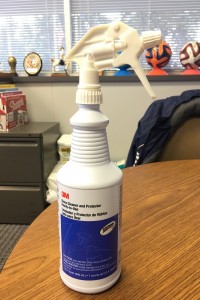 Which brings us to 3M Glass Cleaner & Protector. I am not going to sugar coat it, 3M Glass Cleaner is my product of choice. I actually went back over all the windows and recleaned them with this product. The 3M Glass Cleaner is a thick product, it stays in place, doesn't streak, and leaves a protectant layer on the window so it wont collect as much dirt for the next cleaning. My qualm with this product is that it dries super fast, so you better be ready to wipe as fast as you spray.
All and all this is a review, it is just my opinion about products that I am lucky enough to test out and let you amazing people know what I think. Do not let my review deter you from changing a product that you like, try testing out a product on your own that you're interested in. All the products that I tested out today can be ordered at smartofficedeals.com… until next time!